◄ Back to Previous Page
Cloth Dryer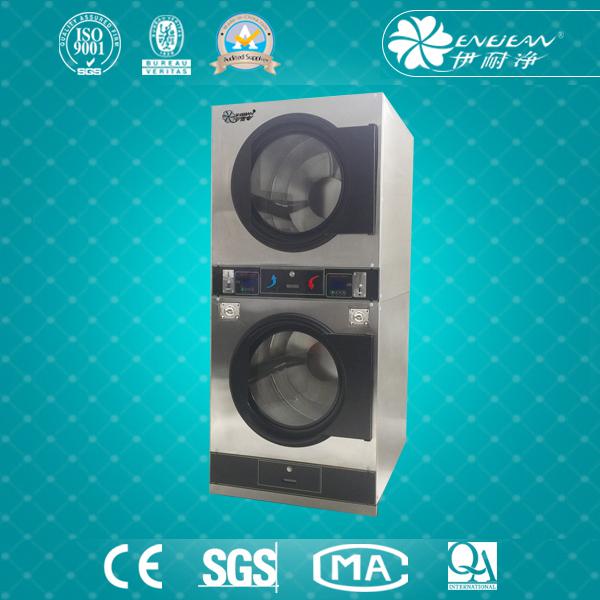 YHG Series Energy Saving 18kg Commercial Self-Service Stack Drying Machine
Performance Characteristics of Equipment:
Double deck structure design, save the area twice.
Adopting the international advanced axial air intake structure can effectively improve the heat exchange efficiency, shorten the drying time, and save energy 30-35%.
The automatic control of the computer can be used to control the drying temperature and time according to the user's requirement and the characteristics of the clothes.
The whole machine adopts high quality heat preservation device. Compared with other similar products, it can reduce heat loss significantly.
The mould level of the whole machine is in the lead in China, the manufacturing process is advanced, and the design is exquisite.
Large caliber loading door, convenient and practical for throwing clothes.
Gas type dryer adopts advanced gas controller, which is safer and more reliable. It adopts gas direct heating, which can dry fast. High-efficiency and energy-saving.
Using integrated motors to save energy and reduce noise.
Gas heating and electric heating can be adopted.
The machine has a self-service model (coin, swipe card, cloud payment (WeChat, alipay, APP)) and conventional models are available.
Technical Parameter Table
| | | |
| --- | --- | --- |
| Model | Unit | YHG-218 |
| Rated capacity | KG | 18+18 |
| Volume | L | 308 |
| Depth | mm | 626 |
| Diameter | mm | 800 |
| Gate diameter | mm | ?657 |
| Exhaust air caliber | mm | ?152 |
| Main motor power | KW | 0.14 |
| Fan power | KW | 0.55 |
| Natural gas interface | DN | 15 |
| Steam interface | DN | 15 |
| Drainage interface | DN | 15 |
| Width | mm | 882 |
| Depth | mm | 1032.3 |
| Height | mm | 2048 |
| Weight | kg | 750 |